Want to Implement a Wellness Program? Here's How:
You have probably stumbled upon this blog post because you're interested in creating a wellness program within your organization. If that's the case, then today's blog will provide some groundwork on how to implement a few easy ideas on wellness additions to the workplace, as well as some insight into why having a wellness program will elevate your organization to the next level.
According to an article by CBRE, there are many benefits to simply incorporating a few wellness programs into your organization. Typically, short-term solutions are the most cost-effective and easy to implement. To get started, below are some short-term solutions you can introduce to your organization:
COMMUNICATION
Ensure that employers and staff are aware of the available programs. Being aware of what you already offer, allows you to assist anyone with questions or concerns, and to cater to your team's specific wants and needs.
FACILITATING FITNESS PROGRAMS
Dedicate a room or space in your office for restorative space or physical activity. You can run a yoga or pilates program for your staff over the lunch hour or create 'recharge rooms' with therapeutic qualities aimed at reducing anxiety levels and enhancing productivity within the workplace. You can even offer gym memberships if dedicating a space in your workspace is not an option.
HEALTHY FOOD OPTIONS
Offer healthier options in the cafeteria or vending machines in the workspace to encourage staff members to make healthier choices in their diet, while also promoting a healthier lifestyle.
OPEN WINDOWS & BLINDS
Frequently opening windows and blinds allows natural light to come into the workspace which is proven to improve mood and increase productivity. Too much artificial lighting can be damaging to the mood and body.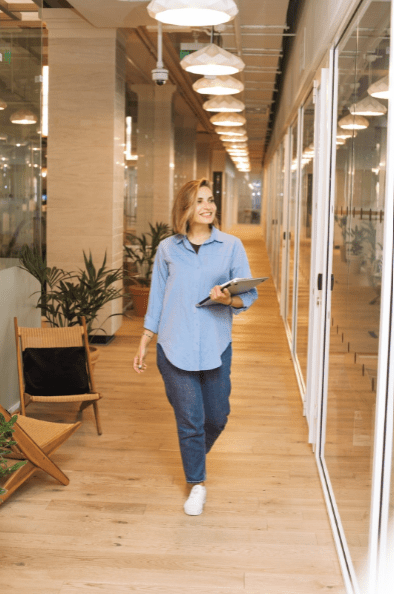 IMPLEMENTING & ENCOURAGING REGULAR BREAKS
When employees are encouraged to take regular breaks, they will come back with more energy to fulfill tasks, and feel more productive. People that are sitting for extended periods of time should be encouraged to stretch frequently or go on walks for a few minutes to get some fresh air.
HOST LUNCHTIME SEMINARS
Hosting lunchtime seminars gives employees the chance to learn more about your organization's initiatives and commitment to the importance of wellness in your space. Seminars allow wellness initiatives to be catered specifically to your employee's specific needs.
While there are many wellness programs to explore, these short-term initiatives can be implemented easily and cost-effectively. Additionally, if you offer remote work, it is important that you are encouraging employees that work from home to practice these short-term programs as well.




Original Article: How to Build a Wellness Programme in Your Organization, CBRE
Article Written By: Jotveer, Izirouwa & Trish