Learn How To Implement Employee Demands For A Safe, Hybrid Workplace Model
Article Written By: NBDair
A new nationwide survey conducted online by the Harris Poll reveals that every organization faces a unique set of challenges to usher employees return to office (RTO). But there is a constant theme: Employees want a safe, hybrid workplace model.
1. Companies must embrace hybrid work as the future of work:
The impact of the delta variant, the unknowns of the omicron variant, and how safe to return to the office also matters have made companies to embrace difficult choices to reopen offices, bring teams back to offices, and enable them to work remotely. Hybrid work is on the rise. While some workplaces are embracing the hybrid model with varied in-office dates for employees, others have returned to pre-pandemic schedules. And at the opposite end of the spectrum, some have gone totally remote. Whichever way a company chooses to bring employees back to the office is impacted by both the new, hybrid workplace and new safety standards.
2. Employers must provide a safe working environment:
There is no simple solution and adding to that tension is a finding that nearly three-quarters of Americans working from home (71%) due to the pandemic strongly or somewhat agree their employer should require proof of vaccination when they return to the post-pandemic office. They also strongly or somewhat agree there should be a mandatory mask policy regardless of vaccination rates or status.
3. Flexible work must be a priority for the return to the office

A quarter (27%) said their employer currently requires them to return to the office for part of the week. They can choose where they work for the rest of the time. About one in five employed Americans who work in an office setting (17%) want their employer to allow employees to decide where they work (in office, hybrid, or fully remote). A lesser number (13%) want their employer to require employees to spend most of their time working remotely.
4. The future of work in the post-pandemic office.

Office returns will vary by industry, comfort levels of both employers and employees, and geographical location. No matter what path they choose, organizations need an option to safely bring their employees back into the workplace while providing maximum flexibility in organizing their offices.
The complexities of a dynamic workplace are constantly evolving. Yet any mismanagement of the RTO process can hurt employee engagement, turnover, and wellbeing. Companies need solution providers to help them navigate or facilitate the return to the office in these turbulent times.
Solution for Hybrid Work
RTO and the hybrid workplace can create challenges for companies unprepared for how to navigate this approach. After the most recent rise in cases, companies of all sizes continue to roll out plan for return-to-work protocol for a seamless return to the office, and invest heavily in hybrid work technologies, tools, and infrastructure, such as remote collaboration tools, cybersecurity & at-home network security, employee wellness & communication & engagement tools. A recent survey found that these buyers expect a 7-8% increase in 2022 spending to get their hybrid work strategy just right. The bigger picture here is increased productivity and the potential to reduce office spend, making bottom lines more attractive.
Solution for COVID-19 Safety Measures
As companies prepare for their workforces to return, 91% say they will require masks, 89% will require social distancing, 66% said they would encourage their employees to get vaccinated before returning; however, only 9% said they would need proof of vaccination before in-person return. For a variety of reasons, not everyone will agree to do so, leaving employers to struggle with how to protect their other employees, customers, and clients, while not violating civil rights laws. OSHA has recently issued revised COVID-19 safety guidance for businesses, employers should "absolutely recommend" employees get vaccinated, if that's their goal, but not demand they do so.
On the non-personal protective measure side, companies have incorporated a few smarter technologies and design elements to mitigate the spread of COVID-19 in the new normal office, this ranges from pre-entry wellness checks (thermal imaging to detect elevated body temperatures), touchless entry, social distance sensors, plexiglass partitions, low-touch & voice-enabled tech, indoor air monitor, to autonomous cleaning solutions.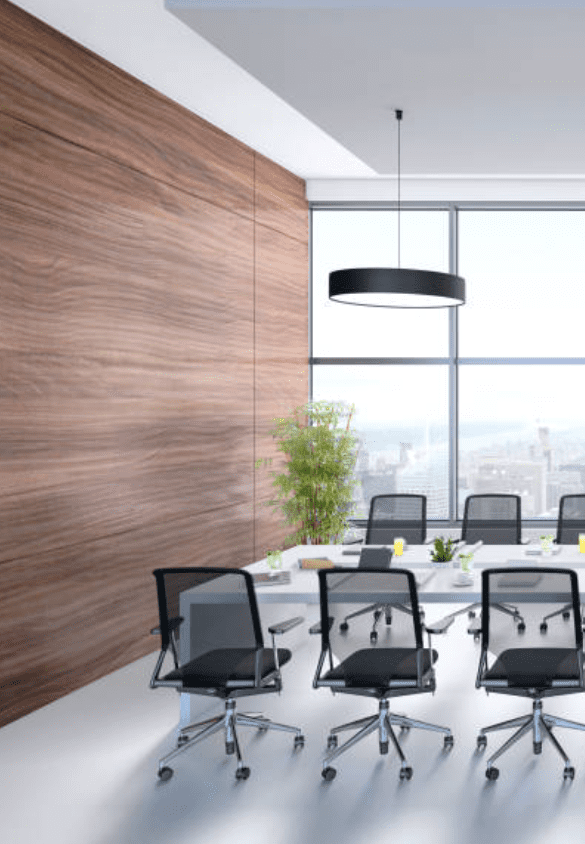 Employers Have Been Offering the Wrong Office Amenities for A Better Workplace
While the hybrid work model stays, the physical workspace still has high value proposition to bring people together as a team within an organizational culture to connect, work, and collaborate for creativity and productivity. Employers have tried to make workplaces more attractive by adding showy amenities and wellbeing facilities and programs, such as gyms, coffee bars, and beanbag chairs. But in a post-pandemic office, the cool new amenity will be something we should have had all along— the clean, heathy, and safe indoor air.
In the United States, an engineering guideline known as "acceptable indoor air quality" governs how much air is brought into a building. But we don't want acceptable air quality; we want good air quality. Instead of being designed to meet a bare-minimum standard, buildings should optimize human health. The failure to do so has landed us in the predicament we are in now: a global pandemic caused by an airborne respiratory virus that spreads almost entirely indoors and has claimed millions of lives around the globe. Except for hospitals, most buildings were not designed to limit the spread of infectious diseases. Instead, architects in recent decades have designed buildings with the goal of making them airtight. This mindset has helped with energy efficiency, but it has the distinct downside of concentrating indoor pollutants. As a result, we were living and working in a sick-building era even before the coronavirus arrived.
COVID-19 has prompted a universal awakening about the power of our buildings to make us sick or keep us well. Who wants to go back to a building that isn't healthy?
Building Ventilation Upgrade
The good news is that every building can improve. Cars need tune-ups, so do buildings. Frequent inspections reveal missing filters, closed dampers, and malfunctioning fans. Over time, older HVAC equipment can be replaced with newer, more powerful, more energy-efficient technology. Most HVAC and MEP service providers today have provided HVAC upgrade and maintenance solutions for Covid-19 mitigation with the following ventilation strategies:
Upgrade all HVAC filters to MERV 13 or highest-grade filters possible and replace 5 times per year.
Assess and fine-tune all Mechanical Ventilation systems Board wide as well as maximize fresh air intake and minimize recirculation air in all HVAC systems.
Execute Mechanical Ventilation upgrade projects in key indoor study, working or service spaces where required.
Install HEPA units in all key indoor study, working or service spaces without Mechanical Ventilation.
These mechanical solutions are necessary, but not sufficient for Covid-19 mitigation. During the pandemic covid-19, the designed amount of outdoor air rate is not enough to reduce the risk of Covid-19 to a safe level. On the other hand, the effect of those mechanical upgrade solutions cannot be quantified. Lastly, the ventilation system operation is not smart enough to keep tracking real-time indoor environment air quality.
NBDair Indoor Air Health and Safety Management solution
NBDair provides an Indoor Air Health and Safety Management solution that is based on the smart air technology product suite – welSPACE. The welSPACE product suite is designed and developed along with the CDC and ASHRAE guidelines for the ventilation system upgrade and improvement. The welSPACE product suite integrates ventilation, filtration, disinfection equipment seamlessly via AIoT technology, uses the combined indoor air health parameters AQI, ACH, IRI together to make the indoor air health condition measurable, visible, and actionable, and uses advanced digital experience technology to drive the indoor air health experience.
NBDair's Indoor Air Health and Safety Management solution offers three layers of monitoring, control, and management capability of the indoor air space:
Public space – this space's indoor air is fed and managed by the central ventilation system which is typically designed and controlled for energy efficiency. NBDair's product welSPACE has a ventilation controller module that is integrated into the central ventilation system to ensure fresh air feeding is maximized for the occupants needs.
Teamwork space – NBDair's product welSPACE is a distributed system with equipment and software that is designed for user space ventilation, filtration, and disinfection to ensure teamwork spaces are healthy and safe, in supplement to the central ventilation system.
Personal cubicle space – NBDair's product welSPACE offers a desktop air purifier to ensure the employee's cubicle or office workspace is healthy and safe.
welSPACE's welLight is a mobile APP that allows an employee and a manager to monitor and analyze the real-time indoor air health condition of his or her workspace (public, teamwork, cubicle, office), and helps to better decide and manage the hybrid work planning.
welSPACE's welCentralManager provides central monitoring and management capability of all portable air ventilation, filtration, and disinfection equipment as well as indoor air health spaces.
welSPACE's welFusion allows you to visualize the real time indoor air health and safety conditions with measurable parameters of AQI, ACH, and IRI, and gain a good user experience.
NBDair's welSPACE product suite provides the best amenity solution for companies to monitor, control, and manage the indoor air health and safety to ensure their working environment is safe and to help their employees to adapt into the hybrid work model easily with higher productivity and flexibility.