Sustainable Kitchen Design Is The New Trend
Just as food is fuel for the body, kitchens are the heart of the home. The kitchen is the most important room in your home. Why? Well, there are many reasons that have led us to understand and respect the necessity of the kitchen in the home. And, since we spend large amounts of time in our kitchens, it's important to create a space that is thoughtfully and sustainably designed in ways that improve our health. We can begin by using more sustainable products and materials in the kitchen design.
Here are some examples:
Choose high-quality wood cabinets: not only are they aesthetically pleasing, but they are far more sustainable in comparison to plastic laminate or melamine cabinets. Opt for formaldehyde-free MDF cabinets, if your budget does not allow for hardwood.
Invest in recycled countertops: a great alternative to white marble or granite countertops that have a higher environmental cost. A great option for beautiful modern and recycled kitchen countertops are products made from recycled glass. Quartz is also a sustainable option, most producers use over 90% crushed waste quartz.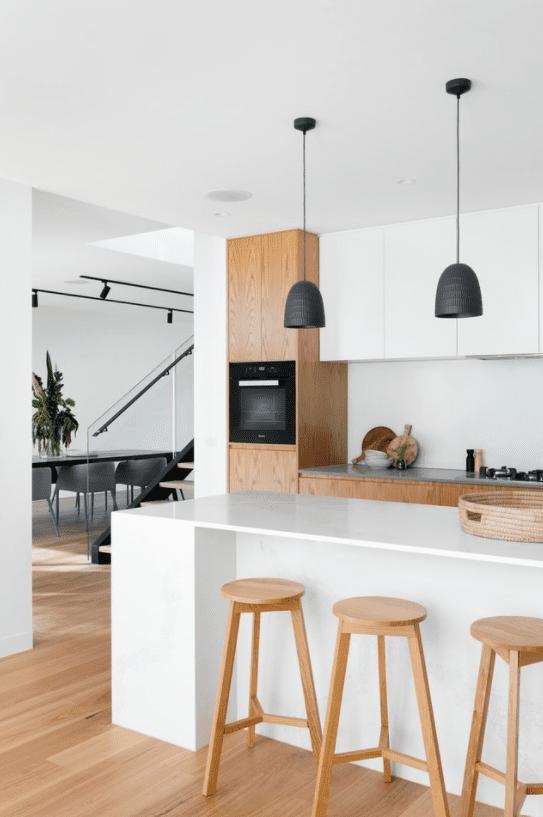 Choose FSC- (Forest Stewardship Council) certified flooring: this will be the most durable, and long-lasting option of wood flooring. There are also natural stone flooring options that do not emit VOCs and are typically made from porcelain, stone, or quartz. By its nature, porcelain is an environmentally friendly flooring and cladding material. In fact, it's so hardwearing that it is recognized as having the longest lifetime potential of any building finish. Locally we recommend @eurolux_design check them out here: euroluxdesign.com
Choose energy-efficient appliances: you will save money as well as lower the energy consumption in your kitchen. Look for models which are Energy-Star certified. Additionally, choosing appliances or kitchen gadgets that are manual will be a more sustainable option vs. electric ones (ex. French press rather than an electric coffee maker).
Invest in an energy-star certified range hood: this will improve kitchen ventilation. When there is a lack of proper air ventilation, air pollutants such as cooking odours, combustion gases, carbon monoxide, nitrogen dioxide, and airborne grease can build up causing respiratory issues in the long run. Energy-star certified range hoods lower energy consumption and maximize efficient airflow. If you would like to learn more about the research on gas stoves and appliances, take a look at this article by Katie Carero: click here
As is evident from the paragraphs above, kitchens are dynamic spaces that continue to grow and evolve to change with the needs and lifestyles of the modern homeowner. A space that was once an afterthought for food preparation is now the main gathering hall for many families and friends. Not only is the kitchen evolving in terms of functionality, but it is evolving to be one of the most eco-friendly parts of the home as well. Smart devices, energy-saving appliances, and alternative fuel techniques contribute to great efficiency in the home that should not be overlooked.

Original Article: Designing A Sustainable Kitchen, Rise
Article Written By: Jotveer